On leaving Yeppoon, we lost mobile phone and internet coverage, so this update to our log will include our journey from Yeppoon to Pearl Bay, onwards to Marble Island, Middle Percy Island and then on to Digby Island, Scawfell Island, Goldsmith Island and into the Whitsunday Islands.
Pearl Bay
Pearl Bay, by all accounts of cruising guides and word of mouth, is a paradise anchorage. Such recommendations make it hard to sail past, so we set course at 0600hrs out of the breakwater at Yeppoon Marina for the 50 nM journey. The forecast was for southerly winds around 10 knots increasing to 15 during the day and tending more easterly. More importantly, catching a ride of the tide north helped us along and we arrived abeam Port Clinton (10 nM shy of Pearl Bay) just after midday. A number of yachts could be seen in the distance behind us, and they all seemed to be closing on Pearl Bay.

Pearl Bay really is a lovely spot to stop and enjoy. The beach is clean and the water blue. Holding is excellent in sand and in about 4m of water at low tide. As the tide floods, it can get a bit rolly, but nothing that could be called uncomfortable. We spent two nights here catching up with the crew on Aurora whom we'd met at Pancake Creek.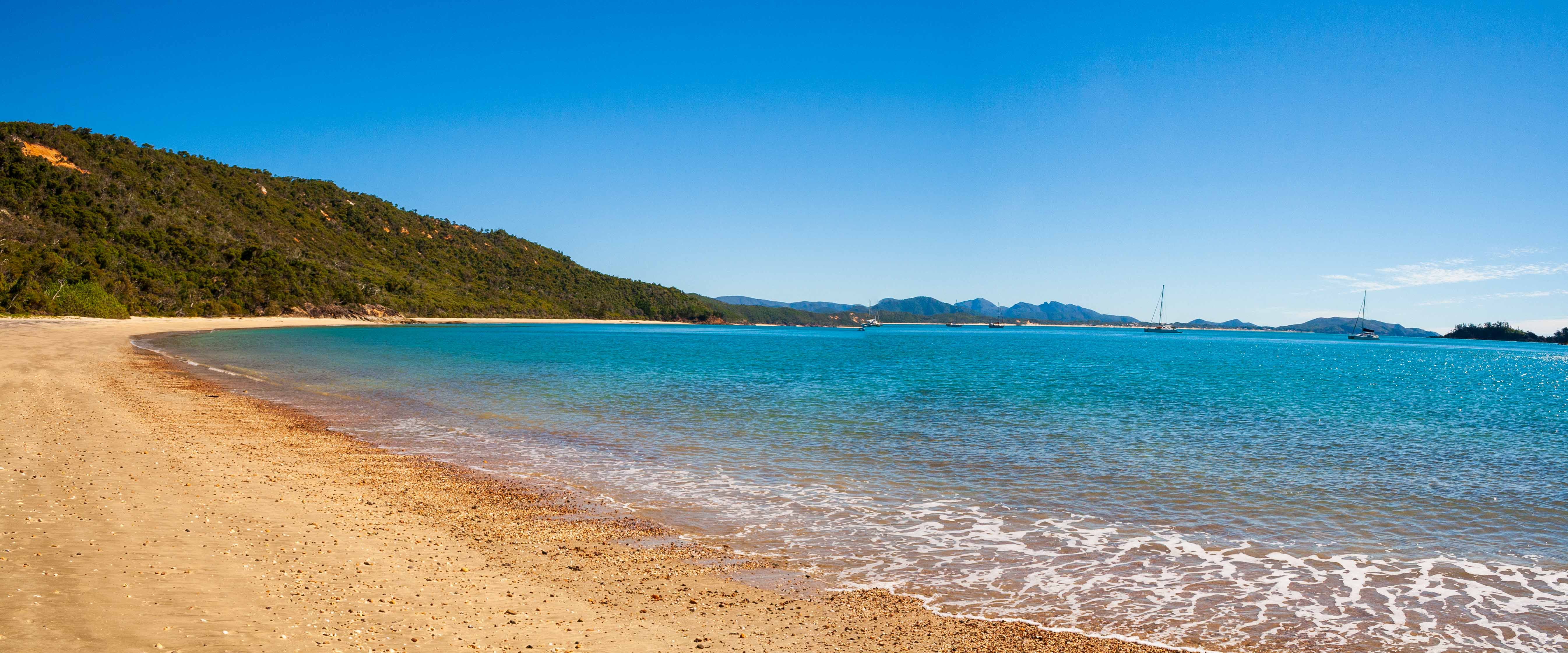 Marble Island
Whilst at Pearl Bay we heard some yachts heading for Marble Island. Our initial intentions was to go straight from Pearl Bay to Middle Percy Island, some 65 nM north. Marble Island was only 24 nM away and a better sailing angle with the persisting southerly wind and swell which in spite of 10-15 winds was lumpy and uncomfortable. Along with Aurora, we decided to head there first, and then the next day onto Middle Percy Island. Again, to catch the tide, anchors were lifted at 0645hrs and we had a brisk sail past Island Head Creek and on to Marble Island, arriving just after 1400. Several boats that left Pearl Bay the day before were still here, so we found a spot and lunched the dingy to go ashore. The island is a pastoral lease, and cows can be seen grazing on the dune grass just above the sandy beach, and on the hills beyond.

Perched just above the high water line is a sign that is looking worse for wear, but on which the word "warning" can be read. If you get up close and personal with it, you can make out that the island is a pastoral lease running cows and deer, and that walking and shooting are prohibited. Some people off another yacht did not read the sign and climbed the nearby hill to get a better view of the island and anchorage. Upon reaching the top they could hear shouting and then gunshots. Later that evening a man came on the VHF radio and said it was a shame some people could not read and trespassed. So we can only assume it was the Marble Island lessee who was shouting and firing warning shots at the people on the hill. Clearly a person who would rather be left alone. Upon us reaching Middle Percy the next day, stories abounded about the curmudgeon who lives on Marble Island.

Middle Percy Island
The cruising guide says the anchorage on Middle Percy Island in West Bay can be rolly. What an understatement. A much famed "A-Frame" structure houses the Percy Island Yacht Club and the signs of yachts who have visited, some stretching back to the early 1950's. It's a great place to visit, but I can't help think the person who put this magnificent shine to social interaction was also condemning all who came after him to a rolly uncomfortable night. We were intending to stay another day and walk to the homestead, but after a horrible night, we decided to pull up anchor and head to nearby Digby Island.
Having said all that, Middle Percy Island and West Bay is a sailing institution and should not be missed. Just plan on not sleeping for 24 hours.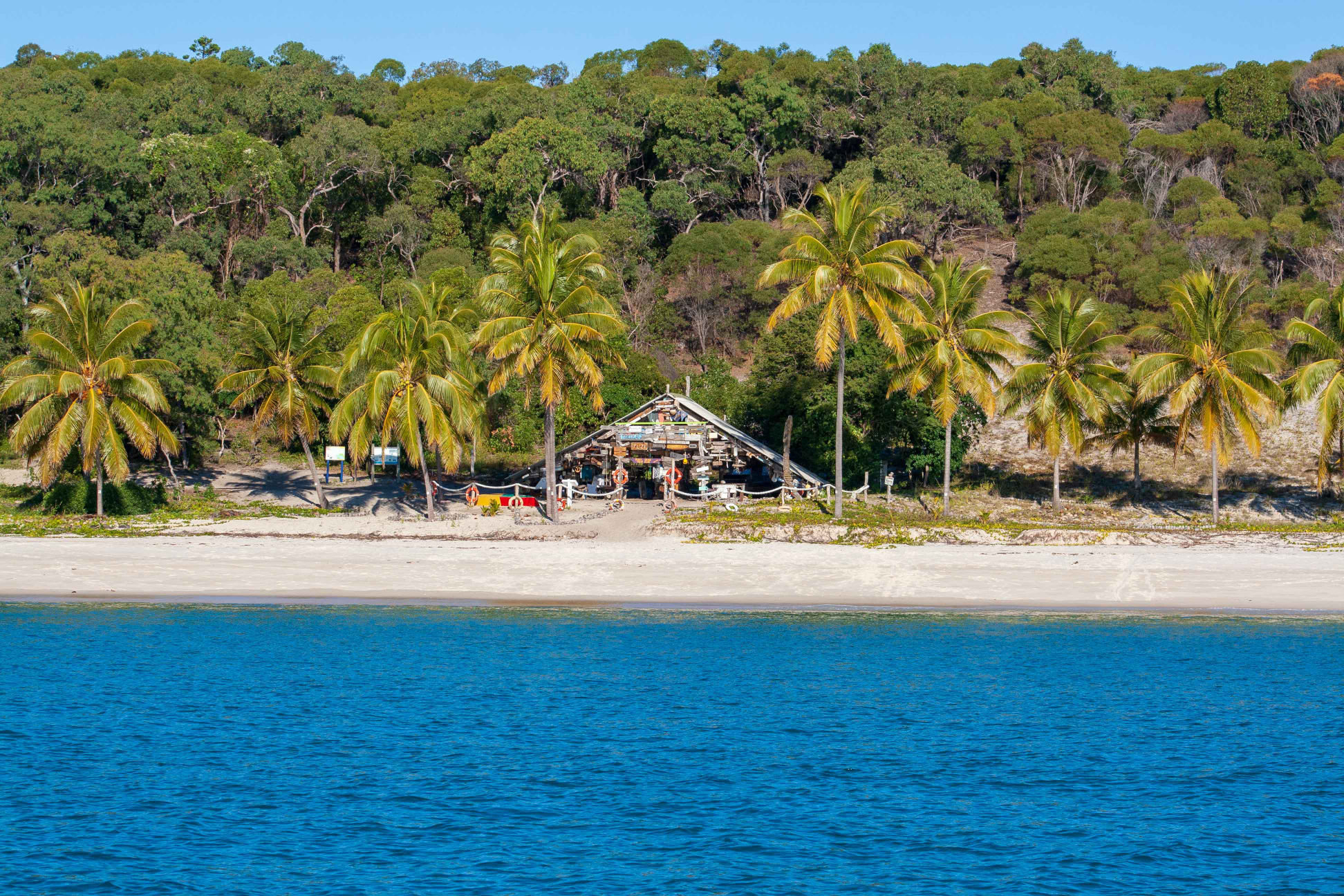 Digby Island
Keen to get out of Middle Percy, and looking at our options, we decided to head to Digby Island, some 25 nM north-west of Middle Percy. Doing so would break up the distance needed to be covered the next day to get to Scawfell Island, and then onto the Whitsunday Islands.
Digby's anchorage promised a good night, but alas, it was not to be. As we approached the island, a helicopter bussed the ridge line of the island, after which thick plumes of smoke rose. The freshing south-easterly wind fanned the flames, and pushed the smoke right into the anchorage. As we arrived, the smoke was thick and heavy, and we could not see the beach in front of us. We dropped anchor in 5m of water, and shut all the hatches.
For the next several hours we watch smoke and flame engulf the island. Towards dusk, the flames died down, and gave us and the few other boats anchored here a "fireplace setting" for the evening.
Our night at Digby Island was pretty rough. It was safe and well protected, but swell invades the anchorage from two fronts, depending on the state of the tide. All in all, it served its purpose, and so with the crack of dawn all boats anchored there set off north.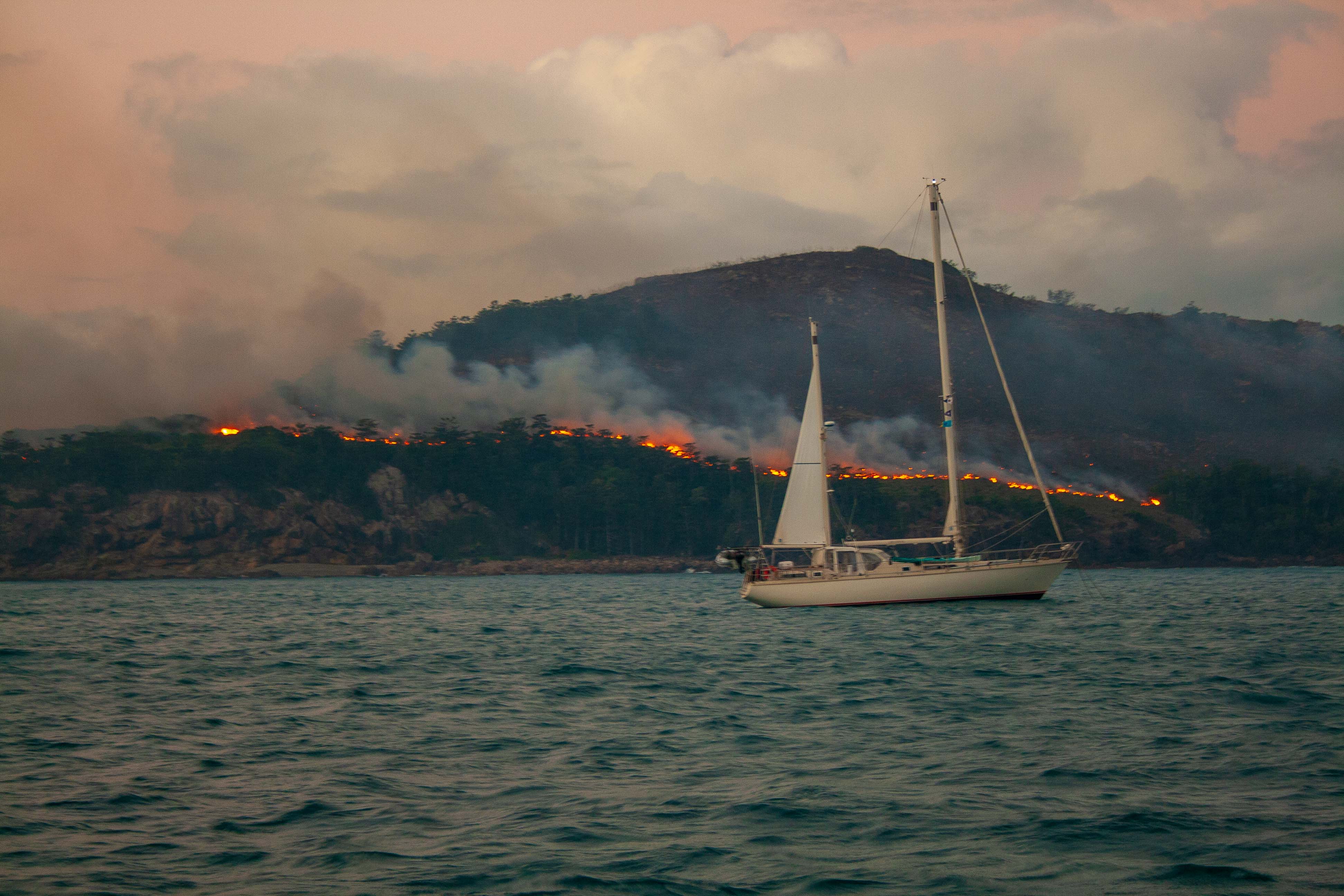 Scawfell Island
Lying 26 nM north-west, Scawfell Island was our next stop. As we left Digby Island, a rain storm came up from behind and with it 25-30 knots of breeze. First Contact with 1/3 of her headsail out was topping 9.5 knots SOG - it was to be a very quick trip! Throughout the day we sidestepped rain storms and squalls and endured very, very lumpy seas. At 1330 we turned into the anchorage at Scawfell and out of the swell.
The island offers good protection from SE winds, which were now a constant 15-20 knots. Tired from lack of sleep for the past 72 hours, we plonked the anchor down. It did not hold. We pulled it up, repositioned the boat and put it down once again. It did not hold. We repeated this 4 more times whereupon we got it to hold. That took about an hour! It was a quiet night despite the tide rising and falling 5m - thats a lot of water rushing in and out of the anchorage.
Scawfell Island, Goldsmith Island and onto Gulnare Inlet, Whitsunday Island
On leaving Scawfell Island for Goldsmith, it felt like a homecoming - we'd been to Goldsmith Island before, and it being part of the Whitsunday group of Islands, this was the first anchorage where we started to feel like we were "home." Of course, there is still another 180 nM to go before we reach Townsville, but coming into Goldsmith Island we got phone and internet connections again, and suddenly it felt like we'd sailed out of the wilderness and into the arms of friends.
We spent a night at Goldsmith and then moved onto Gulnare Inlet on the southern side of Whitsunday Island. Last night's sleep was long and peaceful, given the water is dead flat here.
The weather is turning windy and wet for the next few days so we're going to sit here and read and eat and drink until its cleared. First Contact is having a rest too, having sailed some lumpy seas and been shaken and hurled about for the past week.