First Contact is an Arends 33 built by John Arends at his Woy Woy (Gosford NSW) factory. She was launched as Little Mermaid II by her original owners. I purchased her and sailed her to Melbourne where she was renamed First Contact.
She has extensively cruised the Victorian coast, the Bass Strait Islands, and circumnavigated Tasmania.

First Contact was relocated to North Queensland where she has extensively cruised the Australian East Coast, islands and cays of the Great Barrier Reef from Brisbane to the Torres Strait and everywhere in between.

There were 51 Arends 33 yachts made. First Contact is Hull Number 49.
Arends 33 General Specifications
MAST HEIGHT:
40" (12.19m)
FRESH WATER:
360 L approx. in one tank
FUEL:
200 L approx in two tanks, each 100 L approx.
Below are the words of John Arends taken from the original marketing brochure still (albeit a bit tattered) in the ship's papers on board.
---
"Originally I didn't plan the Arends to be a production yacht - it started out as a personal dream. A dream motivated by needs for my own yacht. The primary need was to have a fast boat built purely as a cruiser. A boat that could not only get in and out of my home waters, Brisbane Waters, N.S.W but get us into as many close shore areas as possible throughout the Eastern coast of Australia, the Barrier Reef and the South Pacific. As well as the shoal draught keel it had to have the maximum amount of performance with the minimum amount of handling. Some dream. But who could be better to bring it to reality than Ron Swanson?
His genius and my determination to build my ideal yacht lead to the birth of 'Romance'. She became the prototype of what is now the Arends 33. My decision to produce this boat and offer her to you, the sailing public, came about by pressure. It was pleasant pressure but pressure nonetheless from other sailors. It was a response to their needs and their dreams. But that's what your Arends 33 will be all about... your needs and ... your dreams."
- J. Arends
---
---
Too small?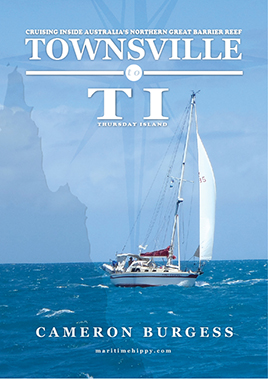 Some people think a 34 foot yacht is too small to do serious cruising, and often look at boats over 40 feet. I'm here to prove to you a 34 fooot boat is a great couples boat. We sailed First Contact from Townsville to TI (Thursday Island) in the Torres Strait a few years back, and we've published this book to inspire you to set sail too.
---