Although the wind is coming from the north, we have decided it's time to move on from Pancake Creek, otherwise we risk being here in October when it is time to head back south again. Because it's such a great place to stop and relax it can easily become a trap.
So up came the anchor at 0700hrs and once again, using the tide, we rode it out of Pancake Creek and into the Southern Coral Sea. Our destination for the night is to be the North Channel that runs between Curtis Island and Facing Island at Gladstone. On our way south last November we passed this anchorage in favour of a more southerly anchorage also on Facing Island. That was an uncomfortable night so we're hoping this anchorage offers a better experience.

It was a motor-sail against the wind and tide, but bearable. The tide was ebbing and it was a bit sloppy. We made good progress nonetheless, and arrived at the North Channel leads just before 1400. The tide was still ebbing and almost at it's lowest point for this lunar cycle, but with little to no wind, and calculating the depths, we proceeded in.

To say this channel is tight and confusing is an understatement. As we approached the first port marker, the depth dropped to just 0.5m below the keel. The leads on shore only slightly ahead of us stood proudly on a rocky outcrop. Yet the shoals on both sides of the boat demanded we keep heading straight ahead. With some relief shortly thereafter, we turned tight to starboard and again were presented with leads on shore in the distance. Following these carefully we passed over the shallowest part of the channel - just 0.1m of water under the keel. We held our breath waiting for the crunch and spin on the keel.

It didn't come. First Contact continued down the channel and entered deeper water. We dropped the anchor in 2m and secured ourselves for the afternoon and night. The tide was to add another 4.3m of water under the keel in the next 6 hours, and then take it all back out again by 3am. At high tide (around 2100hrs) we rolled a bit, but nothing too uncomfortable. As soon as the tide ebbed, it was like we were in a marina - dead flat. A chicken and mushroom risotto, a glass of wine and a bit of ABC-TV and we were out for the count at 2130hrs.

On Thursday morning (14/6) anchors were lifted at 0700 and we reversed what we did yesterday and followed the leads out, but this time with ample water under the yacht at all times. Clear of the channel, we are heading for Great Keppel Island. The forecast was for NW'ly winds of 5-10 knots, with inshore afternoon sea-breezes - right on the nose of our intended course.
Another day of motor-sailing past uneventfully. We passed Cape Capricorn just before midday, finally entering "the tropical zone" of northern Australia. As soon as we passed the Cape, the water turned a light blue heralding our arrival in tropical waters.
On passing Hummocky Island we discovered Dr. Evil's "secret lair" and thought about alerting authorities, but then settled for lunch instead. Your secret is safe with us Dr. Evil.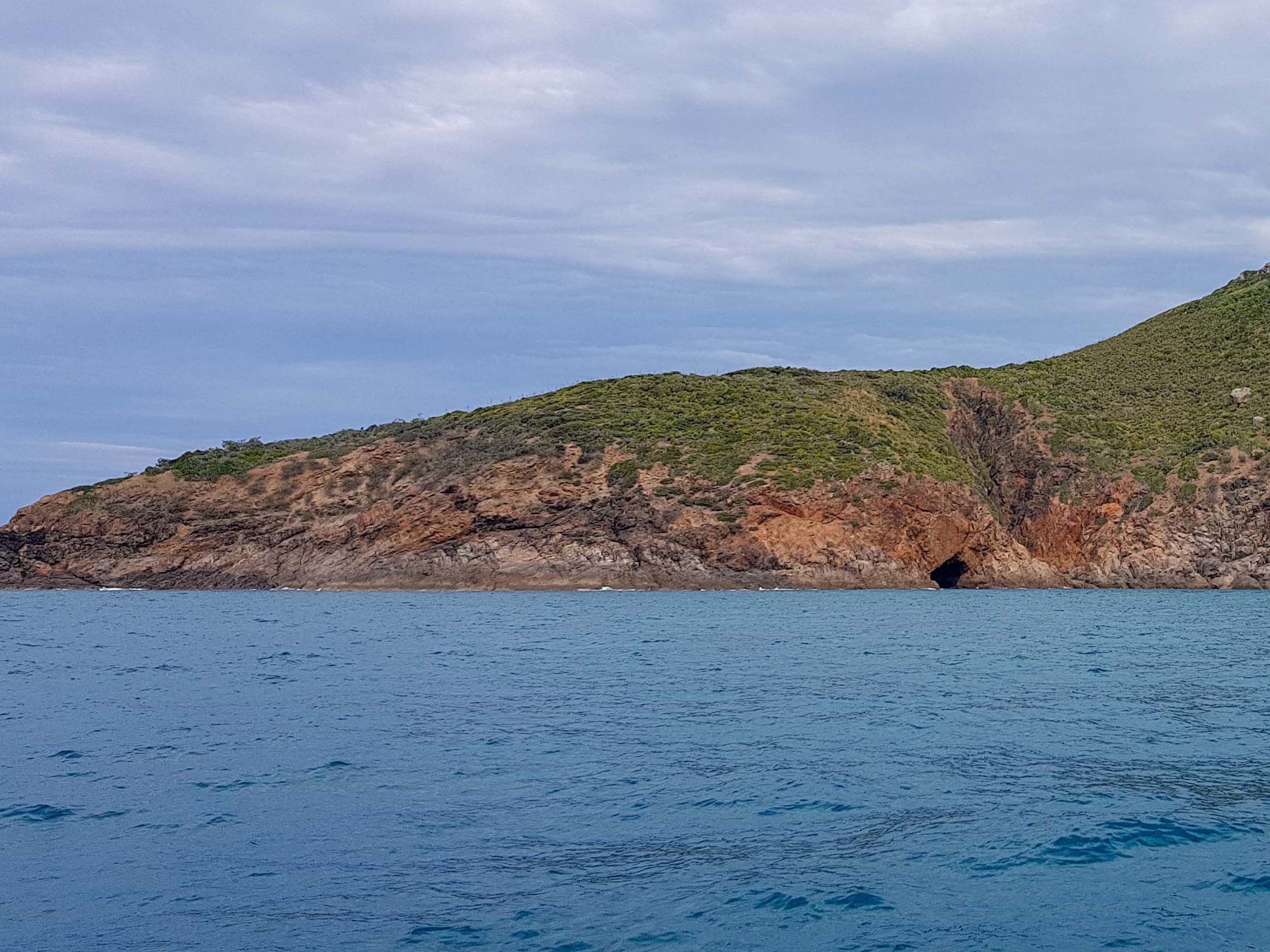 Great Keppel Island was another 16nM north of the secret lair, and by 1300hrs the sea had turned to an oily - glass like surface. Hardly a breathe of wind, but fortunately the air was not hot. The engine has been given a good workout today, and the batteries fully charged.
We dropped anchor at Long Beach after being escorted into the anchorage by a pod of humpback whales. Long Beach is on the southern side of Great Keppel Island and the forecast wind for the next two days are northerlies.
Dinner was a lamb roast with baked apple gravy embedded with golden nuggets of roasted garlic. The forecast wind for the next three days was to be northerly winds which would not assist us. We decided to head to Yeppoon Marina in the morning and stock up on food and water, and have a shower, before heading north.