There's nothing like a hearty, filling soup to warm the spirits or sooth the senses.
Although you can buy soup already made, the stuff the commercial companies push is nothing like this - in economy, in taste and in how filling and wholesome it is for you. You will need a hand wand blender to puree the soup and sterilized jars ready to go if you want to preserve the soup.
Before every passage-making trip where we are going to be "at sea" for more than a week we make this and then can it in jars, ready for a quick lunch or a light filling yet nourishing meal before turning in for the night after a long day's sailing. We always run out. Always.

This recipe will made enough to fill four to six 500g sized jars.
You Need
Olive oil
1 full small kent pumpkin, cut into chunks, skin and seeds removed
1 onion, finely diced
3 sticks of celery, finely sliced
2 cloves of garlic, sliced
2 carrots, sliced
2 heaped teaspoons curry powder (or to your taste)
2 teaspoons vegetable stock powder
2 to 3 cups of water (give or take - don't put too much in because if you want to add the coconut cream later, it will add volume to the liquid)
Salt and ground pepper to taste
Optional Extra
1/2 can coconut cream (when you're ready to serve)
What to do
Heat olive oil and add pumpkin cubes and pan fry until slightly browned. You can use a bit of butter to help browning, but if I'm preserving the soup in jars I tend not to use any dairy here.
Add onion, celery, garlic, carrot and curry powder. Stir to combine. Fry for a further 2 minutes.
Add water and vegetable stock. Stir and cover. Simmer for 30 minutes on a low heat.
Blitz the soup in the same cooking pot with a hand wand until smooth. Salt and pepper to taste.
Canning Process
Wash and dry jars and place in a 150+ degree Celsius oven for 10 minutes. Remove from the oven, using oven gloves and a sterilized funnel, pour hot soup into hot jars. Ensure there are no large gaps of air, and seal tightly with original jar lid.
As the jars cool, you'll hear the lit "pop" into place and the button on the lid will be depressed. That way you know the seal is good. If the button remains clickable after cooling, the canning process has failed and the food should be eaten immediately.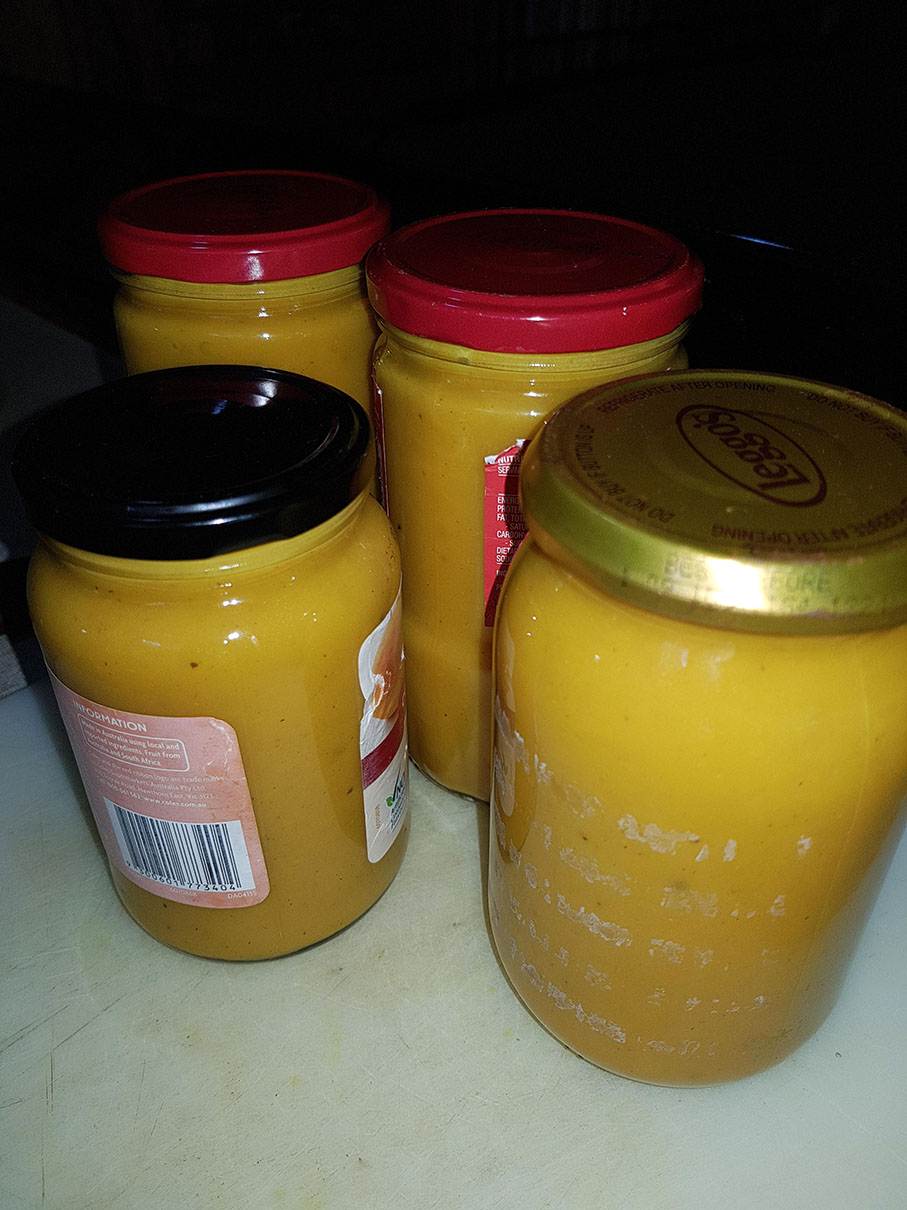 Serving
Pour cold soup into a small pot. Add optional coconut cream if desired, otherwise, just go with what you've got. Heat until hot throughout. Allow to cool to eating temperature.
Meanwhile, thickly slice sourdough bread and toast. Spread toast with butter or parmesean cheese and serve with hot soup.