Snapper Island lies 11 nautical miles north east of Port Douglas and just 2 nautical miles east of the mouth of the Daintree River. The island is part of the traditional sea country of the Kuku Yalanji people and is covered in lush vine forests, dense eucalypt forests, mangroves and sports a few coral rubble beaches. It's a great place to stay the night if you've just left Port Douglas and you're seeking some solitude.
Approach and Anchoring
There is a single blue public mooring buoy available to be picked up. In winds up to 34 knots, mono-hulls up to 25m and multi-hulls up to 22m are allowed to stay the night if the buoy was picked up after 1500hrs, otherwise a 4 hour limit applies.
This high continental island is popular for camping, bird watching and small boat fishing. Lush forests, mangroves and coastal vegetation support a variety of bird species. Snapper Island is a popular tourism and sea kayaking destination. The campsite on the north-western side of the island gets regular use during the dry season. Going ashore is straight forward; land your dinghy on the coral beach just off the mooring.

A short track leads from the day use area on the north west point over a rocky ridge to the northern side of the island. You can walk the beaches around the perimeter of the island, however access through the interior of the island is not encouraged as the fragile forest is easily damaged.
Swimming or paddling off the boat, or whilst visiting shore is not advised as this is very much croc country. The mouth of the Daintree River is less than 2 nautical miles away, so even if you can't see them, you can be sure there are salties around.
In the early 1900's a lime kiln was set up on the island which was fired by wood from the Daintree. It is thought bêche-de-mer processing may have been undertaken here, and there is evidence of remains of an early Chinese market garden on the island, the watercourse stonework is still visible today.
---
Are you sailing further north of Snapper Island?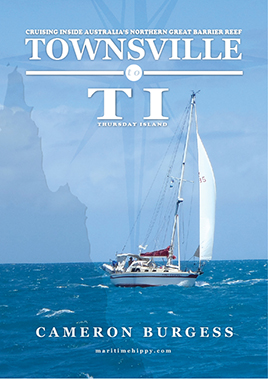 Snapper Island is just one anchorage we used on our trip from Townsville to TI (Thursday Island) in the Torres Strait aboard our Arends 33. Pages and pages of pictures, advice and maps built on us having being there and done that! You can download a free sample of the book now.
---