Little Pioneer Bay is a popular destination, not only because it is a pretty little bay, but because it is a good day's sail from Townsville being just over 45 nautical miles north from the port's channel markers.
Orpheus Island, known as Goolboddi Island, is at the northern end of the Great Palm Group of islands. The Manbarra Aboriginal people are the traditional owners.
Approach and Anchoring
There are public mooring buoys available to be picked up in Little Pioneer Bay. Three are located in close proximity to 18o 35.73 S 146o 29.15 E on the northern shore of the bay, whilst a single buoy is located at 18o 39.99 S 146o 29.34 along the southern shore. This buoy offers better protection from the SE winds, although the others are fine in moderate conditions.
If you miss out on a buoy upon arrival, most yachts anchor in 6 to 8 meters of water seaward of the northern cluster or buoys. The bottom there is sand and dead coral, but beware the fringing reef and associated bommies on the northern shore. At dusk, westerly katabatic winds from the mainland can blow into this bay with some force for a short period of time, so ensure you are secure and have enough swinging room.

Go ashore using a rising tide to clear the reef and ensure you have enough water to get back to your boat without having to wait, or worse, carry your dinghy across the extensive drying coral reef. Ashore there are camping facilities; a table and toilet. A very short walk up the path leads to ruins of the old sheep station house, and then beyond that, follow the path (sometimes unclear due to vegetation growth) through the rainforest and up over the hill to the top of a cliff overlooking the eastern shoreline of Orpheus Island. From there, commanding views of the reef and the greater Palm Group of islands to the south can be obtained.
In October 2012 we were visited by four migrating humpback whales whilst stationary on the southern buoy. The whales played alarmingly close to the yacht for about 45 minutes. You can watch a video of our encounter.
---
Sailing North?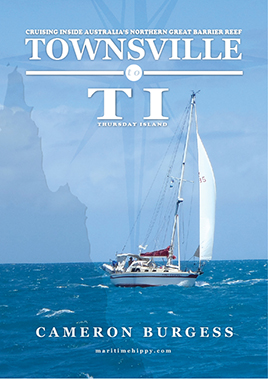 Little Pioneer Bay is just one anchorage we used on our trip from Townsville to TI (Thursday Island) in the Torres Strait aboard our Arends 33. Discover all the wonderful anchorages and islands you can visit to truly experience the Great Barrier Reef in all its majesty while you're sailing through Queensland.
---